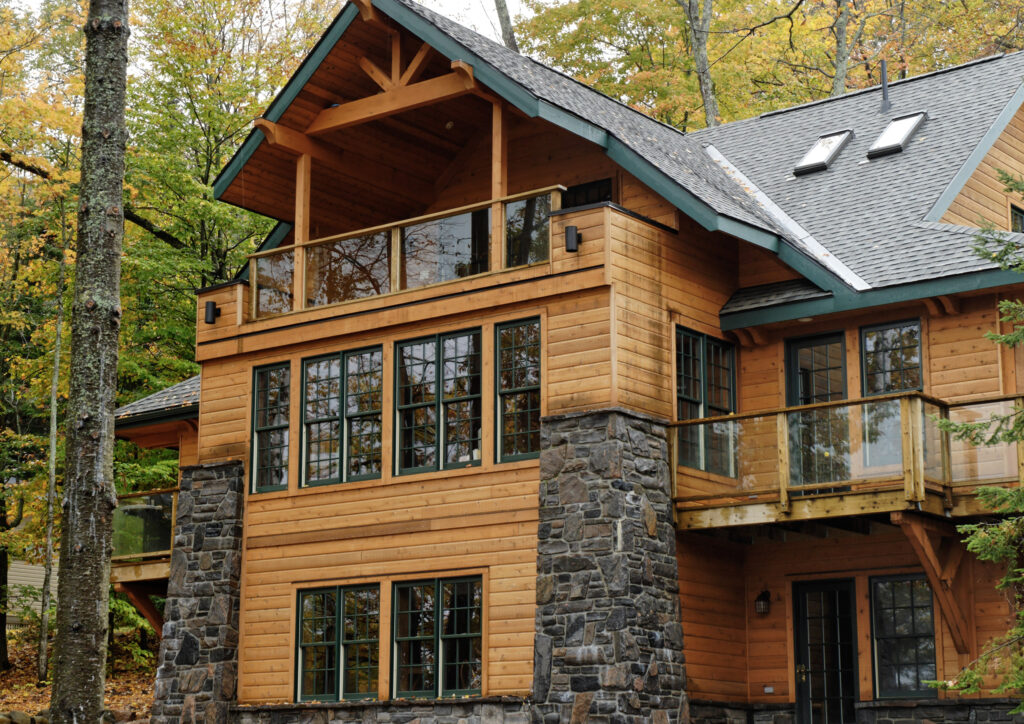 For many people, a cottage is the idyllic retreat into the great outdoors; a place where weekends can be spent hanging out by the lakeside or gathering around the outdoor firepit. Unfortunately, cottage life isn't always a year-round affair, and many unwinterized recreational properties need to be temporarily closed before the snow hits.
Before freezing temperatures arrive, consider taking the following steps to properly prepare your cottage for the winter season:
Clean out your eavestroughs and check the roof. Eavestroughs packed with leaves and pine needles can force water to back up onto your roof shingles, a common source for unwelcome leaks. Before you pack up for the season, unclog your eavestroughs to prevent potential water damage and allow excess water to flow freely. While you're up there, be sure to inspect the roof for any loose shingles and chimney damage, and trim back any tree branches that could be a hazard.
Store furniture and tools. Protect your belongings from theft and weather damage by stowing them away in a dry place, such as a shed or inside the cottage itself. For larger items, such as boats, kayaks and canoes, safely store them covered, secured and away from public view. Outdoor furniture can make for convenient nesting material for animals, so be sure to cover cushions and seating with plastic sheets to avoid destruction. Protect your indoor furniture too by wrapping mattresses, couches and chairs, and placing fabric softener sheets in your drawers to discourage pests.
Drain your pipes and shut off the water. Frozen water lines in non-winterized cottages can quickly lead to burst pipes. Prevent major damage by shutting off your water supply and draining the lines in your home. Pour non-toxic antifreeze down drains and toilets to prevent freezing. Wrapping exposed pipes with foam insulation can also help to prevent bursts, condensation and leaks during the wintertime.
Check your sump pump and septic tank. Many recreational properties use a septic system. When the snow thaws, your home will experience elevated water levels, kicking your sump pump into high gear. Make sure it is in good working condition and will stay on in the event of a power failure, either with a backup battery or a generator. If your septic tank is due for a service before you close the cottage for the year, be sure to add this task to your to-do list. At the very least, add a good bacteria into the system to help break down waste.
Unplug the appliances. Unplug each of the appliances in your home, including your freezer, washing machine and microwave, rather than turning off the electrical supply completely. This way, the sump pump, security alarms and lights can still receive power when needed.
Cover up holes and openings. Animals will be tempted to sneak into your cottage when the temperature drops. To prevent this, fill small holes with steel wool and install a chimney cap to keep out unwanted visitors. Boarding up your windows and doors can also help to deter theft and keep animals from chewing their way in.
Empty your fridge and cupboards. Avoid leaving any tasty treats that could attract pests and mold. Remove food from your fridge, freezer and cupboards, including dry and canned goods. Leave your fridge and freezer doors open slightly to prevent a musty smell from building up inside.
Adjust the thermostat. If no one is home, there is no need to keep the cottage toasty warm. You may decide to turn off your home's heating system completely, or adjust your thermostat to the lowest temperature to prevent frost build-up.
Do a final inspection. Before you drive away, be sure to give your property one final walk-through, inside and out, to confirm that you've packed away all of your valuables. Remember to lock all doors and windows, turn off all lights and collect the last of the garbage. For insurance purposes, it doesn't hurt to snap some photos of the cottage in the event of theft or damage.