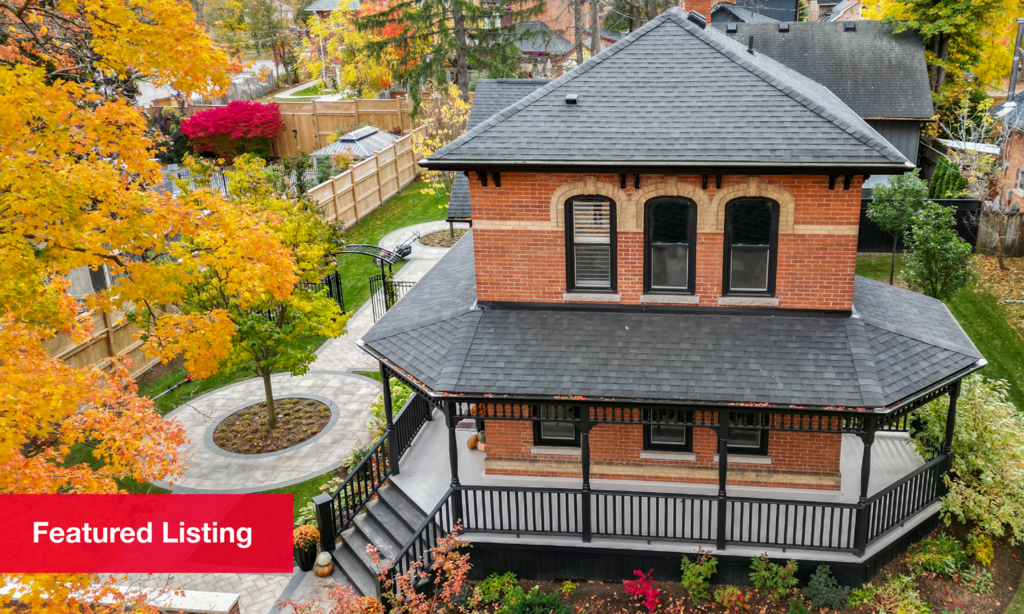 Location: 62 Zina Street, Orangeville, ON
List price: $1,999,900
Size: 2,340 sq. ft.
Lot Size: 10,192 sq. ft.
Rooms: 3+1 bedrooms, 4 bathrooms
Special features: Wraparound porch overlooking custom stone paving, dreamy kitchen with La Cornue gas range from France, and the home's original cast iron bathtub.
---
If you're looking for European-inspired design with historic roots, then this century-old property in Dufferin County may tick all the boxes for your dream home.
Located a few minutes from Orangeville's main street, 62 Zina Street is a fully-renovated family home with restored features that are masterfully blended with contemporary Parisian designs. Featuring an Italianate-style exterior with a traditional hip roof, the full-brick, two-storey abode was originally built in 1887. The home has received a 21st century facelift, boasting reclaimed ash hardwood herringbone floors, original baseboards and a stunning floor-to-ceiling Palladian window surrounding the family room's gas fireplace. There are many modern comforts to be found around the home, from the mudroom with heated floors to the dining nook with built-in seating.
The property is owned by listing agent Ross Hughes, broker of Royal LePage RCR Realty. Hughes bought the home in 2010 and has fully refurbished it in phases over the years.
"There are many cool elements in the house, particularly the six-foot cast iron bathtub. I ran into a lady at an open house about eight years ago. I believe she was in her 90s. We got talking, and it turns out she lived in this house many years ago. She said that the best part was the bathtub. I have to agree!" said Hughes. "When we renovated the property in 2019, it took seven guys to carry that tub out to be refinished."
Hughes' wife, Tanya, is an accomplished designer who took a Paris-inspired approach to the interior of their family home.
Photo credit: Hughes Real Estate Team, Royal LePage RCR Realty / Capture studios
Want to know more? Check out the complete listing here.