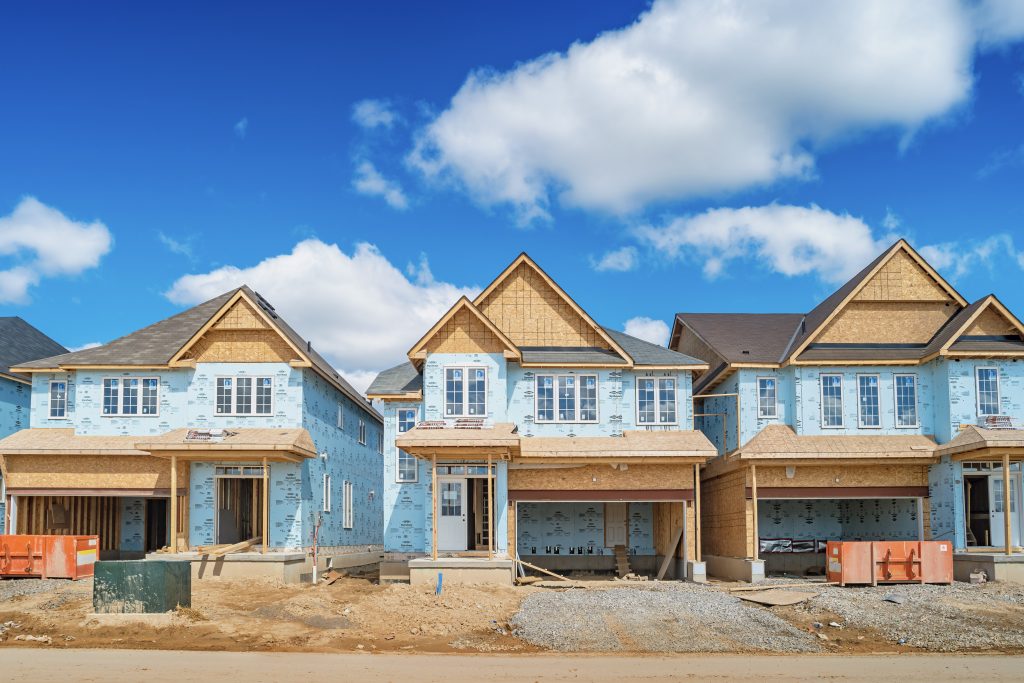 In Canada's fast-paced real estate market, buying a home can involve multiple in-person showings and many rounds of offer negotiation, plus several years of saving for a sizable down payment. These hurdles can make it difficult for some buyers to get a foot on the property ladder, especially in today's low-inventory, high-interest-rate environment.
Some Canadian homebuyers prefer an alternative approach to purchasing real estate that forgoes the conventional challenges of resale transactions, opting to purchase their home pre-construction. Pre-construction, a popular choice for investors, is also an option for end-user homebuyers who prefer to buy brand new and have the luxury of time to wait to move into their home.
Buyers who purchase a pre-construction property and plan to live in it upon completion have remained a consistent buyer demographic in the Canadian pre-sale segment over the past few years. In fact, end users are currently the most active type of buyer in the pre-sale market, according to a recent Royal LePage survey1 of real estate professionals across the country who conduct 25% or more of their business in the pre-construction segment. This is unchanged from pre-pandemic times when end users were the most common pre-construction buyer type.
Buying a pre-construction home offers a unique advantage for first-time buyers. Unlike resale transactions, where the full down payment is required upfront, pre-sale deposits are broken down into multiple installments that are paid to the developer over a period of time, often across a few years. For first-time buyers who don't have a full 20 per cent down payment saved, this structure allows them more time to save while still securing a contract for a home. In the current market, where interest rates are at a 22-year high, closing on your home at a later date also allows for borrowing costs to potentially come down by the time a mortgage is required.
Are you thinking about buying a pre-construction home? We checked in with two Royal LePage experts who specialize in pre-construction properties to provide insights into this segment of the Canadian real estate market.
Shawn Ramautor, sales representative, Royal LePage Wolle Realty, is a member of The Ramautor Team, based in Kitchener, Ontario and servicing the Greater Toronto Area. 
Sayed Najibi, sales representative, Royal LePage West Real Estate Services, is the founder of virginhomes.ca, a pre-sale listing website for pre-construction projects across Greater Vancouver.
What is the demographic of buyers who are interested in pre-construction units?
Shawn: Pre-construction units are appealing to all demographics, especially first-time home buyers who can enter the market through a pre-build condo project, as well as those looking to expand their real estate investment portfolio, adding much-needed supply to the rental market.
Sayed: Typically, it's buyers with access to equity or cash for deposits, and an annual household income of around $90,000 to $150,000. These buyers are purchasing pre-construction to help their children, invest for their retirement, or as an alternative investment to GICs or low-interest savings accounts.
Traditionally, pre-construction has been an investor-driven market (specifically condominiums). Are you finding that the segment is becoming more attractive to end users? If yes, what property types are most in demand?
Shawn: With increasing prices and competition, we are finding more end users interested in pre-construction projects, as it allows them easier entry into the home ownership space without the competition. It also allows them to secure a purchase today, without having to obtain a mortgage at today's inflated interest rates.
Sayed: Historically, investors have purchased pre-construction units for the purpose of generating revenue, and as an alternative to other types of financial investments. However, these days, end-user buyers are also interested in pre-sale to help their children get into the real estate market. Newcomers to Canada are also interested in pre-construction. As permanent resident applications can take a couple of years to finalize, more newcomers are choosing to purchase pre-construction, which can reach completion around the same time that their PR status is firmed up.
What are the biggest misconceptions about buying pre-construction? What are the pros and cons? What should new buyers know about the process?
Sayed: There can be a lack of access to project details for potential buyers. Many people think pre-sales are out of their reach, but if they are advised by a professional, then it's actually one of the best ways to enter the real estate market. One advantage to pre-construction is completion is usually achieved within two to four years, giving buyers plenty of time to prepare their finances. And, typically, the down payment schedule is spread out over several months or years with no additional expenses until completion.
There are a few pre-sale risks to be aware of. If you don't examine your finances ahead of time, then you can be at risk of not qualifying for a mortgage at completion. There is also the risk of dealing with a non-reputable builder who may deliver a low-quality product. Some builders may decide to pause or cancel projects in the event of a rising cost market where prices for labour, materials or financing increase. Hence, when buying pre-construction, it is important to work with specialists who are familiar with builder contracts and processes.
Shawn: One of the biggest mistakes buyers make is not considering the full financial cost of purchasing a pre-construction unit. Some buyers don't realize that they may be required to pay development levies and Harmonized Sales Tax (HST) upon closing, depending on the terms of the contract, as well as if they are buying as an end user versus an investor. It is always advisable to speak to your real estate professional prior to investing in pre-construction projects and have your lawyer review your deal prior to firming up the contract.
What is the difference between a pre-construction and an assignment sale?
Shawn: A pre-construction deal is where the purchase is completed directly through the developer or builder, whereas an assignment sale is a unit purchased from a buyer that has previously secured a firm agreement from the developer/builder, and is now looking to sell that contract for purchase to another party.
Is pre-construction a more cost-effective choice compared to the traditional resale market?
Sayed: Pre-sale is a more flexible option for buyers. The deposit used to secure a unit is spread out over one to two years, and there are no expenses until it reaches completion. The advantage of pre-construction is that it gives people time to plan their moves versus doing anything immediate, like with resale. It doesn't always cost less, but it does give buyers a lot more time to plan.
Shawn: This really depends on the market and timing of your investment, as well as the deposit structure the developer is asking for in the particular project you're investing in.
As a homebuyer, how can you decide if resale or pre-construction is the best option for your unique circumstances?
Shawn: I think the biggest factors to consider are whether they are an investor or an end user and what the purpose of the property is; how soon they need to make the purchase and close; and if they require a mortgage, are they able to secure financing today, or do they need a longer closing to sort out that aspect of the purchase?
Where can interested buyers get information on pre-construction listings?
Sayed: There is not always a one-stop shop for all of the pre-sale listings that are out there, as it's the developer's choice to market across multiple channels. It is best to start by reaching out to a real estate professional in your area who specializes in pre-construction sales, as they will likely have the most up-to-date information on current and upcoming development projects in your area.
Looking to work with an agent in your area who specializes in pre-construction home sales? Find an expert on royallepage.ca today.
---
1A national online survey of 50 Royal LePage brokers and sales representatives in real estate markets across Canada who are experts in pre-construction was conducted between August 17th, 2023, and August 22nd, 2023.